Homes.com Says "Egypt Sherrod Has Reached Guru Status"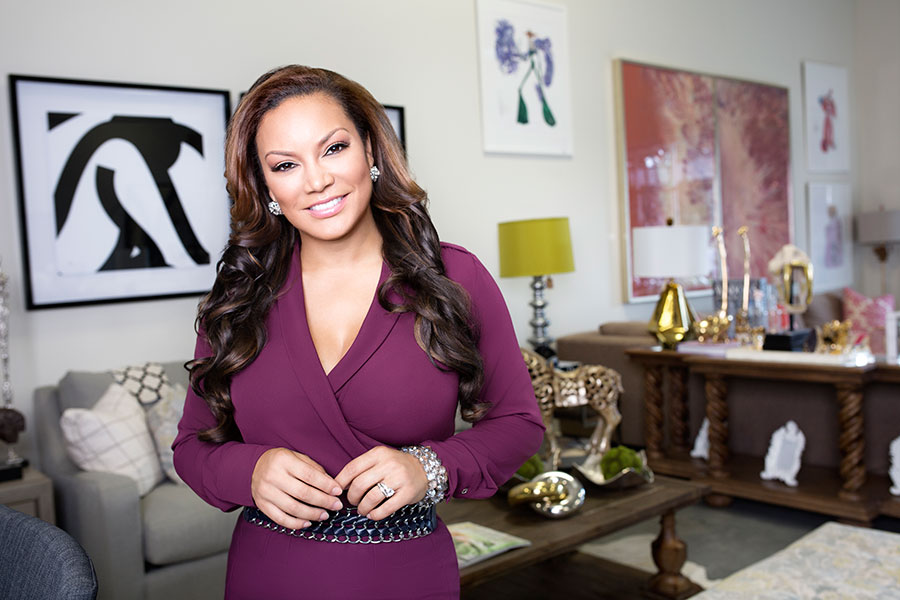 As owner of the Atlanta-based Egypt Sherrod Real Estate Group, author of Keep Calm… It's Just Real Estate and host of HGTV's hit television series, Property Virgins, Egypt Sherrod has achieved guru status when it comes to all things homes – something we'd like to think she has in common with Homes.com!
Each week, on the television series Property Virgins, Sherrod guides first time homebuyers through the emotional ups and downs and logistical wranglings associated with buying a home, while setting realistic expectations and dishing out some tough love along the way. She ushers property virgins into the world of real estate without breaking a sweat as millions of viewers enjoy living vicariously through the budgeting, house hunting and deal-making process.
Once upon a time, Egypt Sherrod was, herself, an anxious first time home buyer. She recalls those jitters all too well, which most likely inspired the name of her book as well as her passion for deconstructing the entire home buying process for her audience and her clients.
In this interview with Homes.com, Egypt Sherrod shares how she nabbed her coveted HGTV gig, her thoughts on everything from choosing the right city and style of home, to how to build your "real estate dream team."
On HGTV's Property Virgins you guide first time home buyers as their resident expert. What was that experience like for you, and who did you look to for guidance and advice?
I think my first home purchase was unique because I'd already been flipping properties as an investor. Some of the jitters and questions that first time homebuyers often have weren't necessarily there for me. But my nerves were definitely strained because it was my first time dealing in new construction. That process can differ and present its own set of challenges. Luckily, my uncle, who is also a real estate broker, was able to guide me.
Did you ever think when you were going for your real estate license that one day you'd be dubbed "America's Most Beloved Real Estate Agent," and work in television? And how has that enhanced your real estate career?
It was honestly the farthest thing from my mind. At the time, real estate was my hobby and my part time career. I was actually a top rated radio personality in New York City and had fun flipping dilapidated properties in my spare time. But the joke was on me. I fell in love with the real estate business so much that my plan B quickly became my plan A. I decided to get licensed and create a niche business, marrying both of my careers together. I had a unique value proposition with duality as a radio personality. This allowed me access to celebrities and other high net worth clientele. Funny enough, I was actually hosting my daily radio show when I received a call from a casting director inquiring about my interest in hosting "Property Virgins." I thought it was a cruel joke and almost hung up the phone. To this day I am glad I didn't hang up. My platform on television has magnified my passion to millions. It's allowed my business to grow by leaps and bounds and create jobs for others.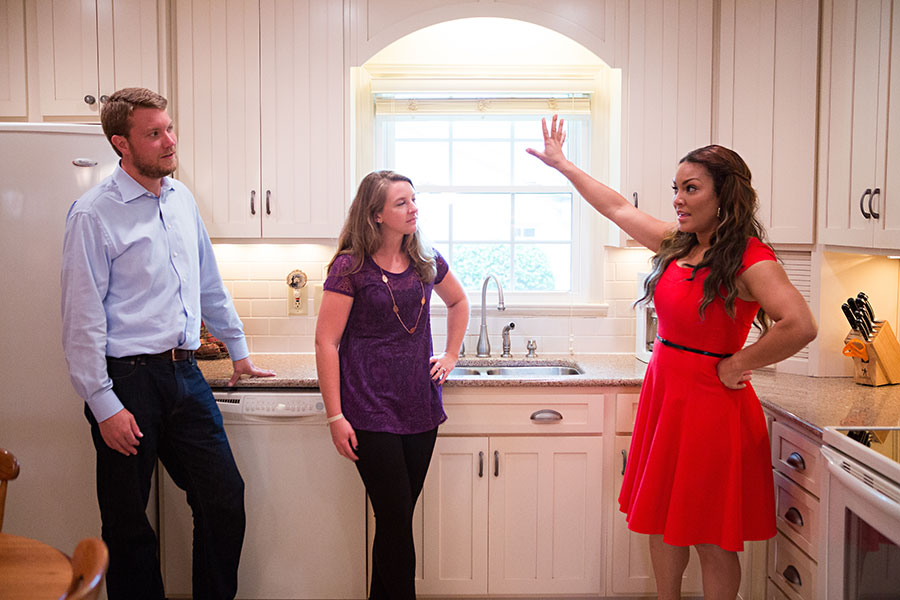 Why do so many first time home-buyers find the process overwhelming and stressful, and how can they simplify it?
It's natural to have anxiety about things we don't know or understand. Purchasing a home is not to be taken lightly. It's a huge financial commitment, which is why it's important to have the right team in place to help you navigate. Homebuyer's can simplify and even enjoy their experience by finding a great realtor to quarterback the process for them. Also before looking at any homes, get that pre-approval so that you'll be confident in your "buying power."
How did you choose the city or town in which you currently reside? And what about it makes you feel like you have found "home?"
I currently reside in Atlanta, Georgia. My real estate business is rooted here as well. Many years ago I traveled to Georgia to visit family and fell head over heels in love. The southern charm, the quality of life, the cost of living,  the spirit of entrepreneurship, and the FOOD! What's not to love about this place?! I do miss New York and New Jersey at times; that's because many of my friends and family still live there and I have extremely fond memories. But then I remember those harsh winters. Let's just say I'm a Georgia Peach now.
Can you describe the style of home you live in?
I live in a rustic traditional style home. The interior design is very traditional, but with all of the modern perks. The exterior adds the rustic inspiration with a mix of stone, exposed wood, and brick.
Tell Homes.com about your favorite room in your house and how you spend your time in that room?
My favorite room is my closet, but the room I find myself spending most of my time in is my kitchen. It's the heart of our home. No matter what event we are having, from backyard BBQ's to formal dinners, guests always wind up relaxing in our kitchen.  We have a spacious counter and two sitting rooms right off of the kitchen. [It's] a very open concept, so I can be at the stove cooking and still talking to someone watching TV in the family room. It's perfect for entertaining.
When it comes to redecorating or basic remodeling, are you DIY or hire lots of help?
I'm DIY all the way! From painting, building shelving, epoxying flooring, refinishing furniture…that's all me. I have to be very desperate to call in the professionals (laughs)… well unless it's electrical or plumbing. That's where I call in the reinforcements.
Nearly everyone I know is hooked on HGTV. Why do you think HGTV's programming has caught on with the public the way that it has?
That's simple. Everyone has a home, and everyone wants to improve their homes aesthetically. HGTV is your one-stop shop. Whether you want to buy, invest, flip, design or decorate.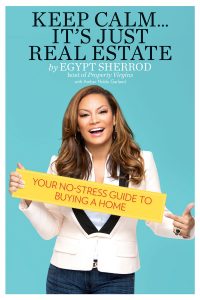 What would you say are the top three takeaways from your book Keep Calm…It's Just Real Estate: Your No Stress Guide to Buying a Home?
Wow… I jam-packed it with so many useful tidbits, it's almost difficult to narrow it down three. But let's see…. get your ducks in a row. It's incredibly wise to sit down with a mortgage professional before shopping for your home. This way you can have a very clear and confident idea of exactly how much money you'll qualify for. You can also determine a comfortable monthly output for yourself. It's anti-productive to shop first. What if you fall in love with a home at $400k, to later find out you can only afford a $200k home? That will be extremely disappointing, so set yourself up for success early. Build a real estate dream team- your real estate agent should be your quarterback. A good agent will have a network of individuals that can help you through each phase of the home buying process, ie inspectors, attorneys etc. Not all agents are created equally. Interview them just as if you were interviewing any job candidate. After all this will be perhaps the most important purchase in your life so you'll want an ethical and skilled Realtor representing you. Don't overspend- You don't want to move into your first house broke. That's what we call "house poor." How horrible would it be to move into a gorgeous new home, but have no money to furnish it or enjoy the basics. Make sure you have enough money in reserves. And as tempting as it may be, stick to your budget.
How can a first time home buyer set realistic expectations, budget-wise, yet still create their dream space once they move in?
Do your homework! Educate yourself about neighborhoods, school systems, prices and competition BEFORE you shop for your home. You notice I keep going back to things you should do ahead of time. That's because knowledge is power. If you understand the process, the prices, and the market ahead of time, then chances are you'll have more realistic expectations of what you'll be able to get for your money and won't be wrought with indecision and frustration.  Also, create a wish list for yourself so that you can make sure your needs are being met as you tour homes.