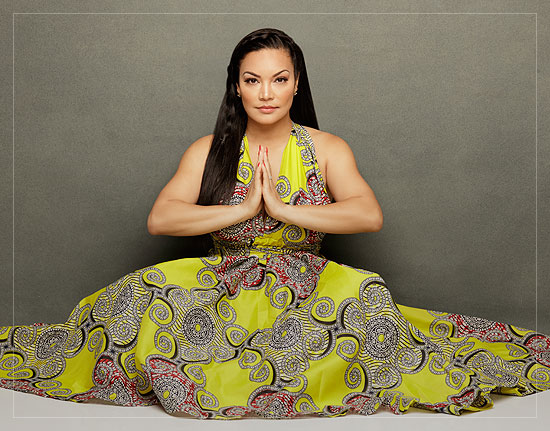 Egypt has 3 children, Infant Harper, 8 year old Kendall and 19 year old step-daughter Simone with her husband of 10 years. She counts motherhood as her greatest achievement, as she says "Honestly it's the best job I never knew I wanted. In my circle I'm the last of the mohicans. All my friends have kids graduating from college, and I'm still having babies. But I have zero regrets on waiting until later in life. I'm settled, grounded, and can actually laugh at myself now when I make mistakes. No mother is perfect."
As a committed philanthropist with a huge heart, Egypt is ready to tackle serious issues in underserved communities and make a substantial difference in the lives of others. "Think about this, God didn't add another day in our lives because WE needed it. He added it because someone out there needed US," Egypt says. Her namesake, the "Egypt Cares Family Foundation," was founded to aid in bridging the socio-economic gaps within the urban family structure. Egypt's foundation regularly hosts seminars and clinics to educate families on home ownership, financial planning, & career advancement.
As an award winning Real Estate Broker & CEO of the Atlanta based Egypt Sherrod Real Estate Group, she's been chosen as one of Network Journal's 40 Under 40, made recurring appearances as the home buyers/sellers "go-to girl" on NBC's Today Show, CNBC, FOX, CNN, HLN as well as being featured on Fast & Company, Yahoo, Homes.com, Rolling Stone, Black Enterprise, and a host of other publications and digital platforms. Egypt drives her lovable but no-nonsense approach home, with her NAACP Image Award nominated "Keep Calm…It's Just Real Estate: Your No-Stress Guide To Buying A Home," on Running Press/Perseus Books which became a bestseller in its genre.
The multi-media maven has had a 20 year award winning radio broadcast career scoring interviews with the likes of Oprah Winfrey, Prince, Leonardo DiCaprio, Martin Scorsese, and the late James Brown to name a few. By the age of 30, she'd been syndicated in more than 60 cities throughout the USA including major markets such as New York City, Philadelphia, Baltimore and Atlanta, managing to win over countless listeners with her honest and magnetic delivery.
Egypt is a graduate of Temple University in Philadelphia with a Bachelors degree in Broadcasting, Telecommunications & Mass Media. She holds the designation of Master Certified Negotiator, Accredited Buyer Representative, Certified Residential Specialist and Certified Distressed Property Expert.
"We possess the power to manifest the lives we want. Where we are today is a direct reflection of seeds we've sewn yesterday. With that knowledge, what life shift shall we create today?"